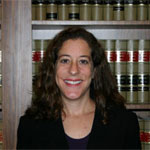 Victoria C. Spetter has been practicing Family and Criminal Law for 19 years.  She is licensed to practice in Massachusetts, Florida, New York & New Jersey. Most of Attorney Spetter's cases are Massachusetts cases.  She also works with clients with dual residences in Florida and Massachusetts.
Victoria Spetter's office is conveniently located in Newton, Massachusetts. Her clients come from all over the region, including Boston, Brookline, Cambridge, Waltham, Needham, Weston, Belmont, Natick, Milton and Reading.  She appears in the probate and family courts in Middlesex, Norfolk, Essex and Suffolk counties on a regular basis.  She also appears in district courts throughout the region.
Education
Juris Doctrate from the University of Pennsylvania Law School in 1995.
Bachelors of Art from Colgate University in 1989, where she graduated cum laude.
Experience
20 years of experience in family and criminal Law
Hundreds of cases litigated
Memberships:
Boston Bar Association

Family Law Section
Criminal Law Section
Solo Small Firm Section

Massachusetts Bar Association

Family Law Section
Criminal Law Section

Women's Bar Association

Middlesex County Committee
Solo and Small Firm Committee

Florida Bar Association
The  Newton Network -Steering Committee
Community Involvement
Newton North PTO

Co-Treasurer of Celebration Event

Bigelow Middle School
Ward School, PTO

Creative Arts and Sciences Committee Representative
Room Parent

Newton Mothers' Forum

Board Member
Community Outreach Coordinator

Waltham Athletic Club

DBH 4 Tennis Team Member
C-Team Tennis Team Member